Here are few pictures of Sialvi sahib with friends and at different events. Send us your memories to add to the list.
Where can we start…Here is a brief information on how Maulana Qari bashir Ahmad Sialvi (Rahmat-Ullah Alaihe) impacted the Islamic Community and his friends, you are asked to chime in and indicate what he meant to you and the Ahle Sunnat community.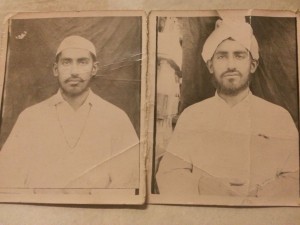 Maulana Qari Bashir Ahmad Sialvi (Rahmat ullah Alaihe) was a prominent member of the Sunni Ulemas in the world since 1968, a loving father, a true friend to thousands, a great social worker, ronak-e-mehfil, and an ashaq-e-Rasul who held hundreds of Milad-un-Nabi (Sallallahu Alayhi Wasallam) programs in Pakistan and then USA since 1991. He also started the annual milad program at the CA Capital Building since 2000. He was a prominent mureed of Khawaja Qamar-uddin Sialvi of Sial Sharif, and an important figure in the khatme-Nabuwat movement of 1970's and 1980's.
He was born in 1948 in Shekhan Sharif near Gojra, and lived his entire life serving Ulemas and Mushaikhs until his parting on March 25, 2014, in Faisalabad. Funeral prayer was attended by hundreds of prominent Ulamas and Mushaikhs including Sahibzada Fazal-E-Rasul Haideri Rizvi, in Sunni Rizvi Masjid, Jhang Bazar. He is missed by thousands of friends and followers.
His darbar is in Chak no. 164, Shekhan. May Allah (SWT) bless his soul and provide him shifaat of Rasul-Allah (Sallallahu Alayhi Wasallam). Please make dua and make efforts to continue his work for Islam.
For more information, read Yaad-E-Mazi under Publications. Share your experiences below.
Click on the picture to enlarge.